Qualification Code : HLT37315
Qualification Name : HLT37315 - Certificate III in Health Administration
Duration : 40 Weeks
Volume of Learning : 1 year Amount of Training : 645 hours
AQF Level : 3
Course Delivery : Face-to-Face
RTO ID : 21985
Campuses : Perth
CRICOS Code : 093195C
Fees : Click here for more details
College Policies, Procedures & Forms
Do you have plans to start a career in health administration within the healthcare sector? Do explore our HLT37315 - Certificate III in Health Administration course that will help you to do so in just 26 weeks.
There is great demand for health administrative workers in Australian and global hospitals, and statistics show that 40% of people who were not employed before starting this course gained employment after completing this course(figures from myskills.gov.au ).
This course provides students with the skills they need to get started on a career in the healthcare sector as a health administrative worker. On completing this course, students will be able to perform tasks, routines and procedures and will be able to competently manage administrative work at any healthcare sector such as hospitals and healthcare centres. They will learn to handle customer service, implement workplace health and safety processes and infection control policies, and provide first aid when needed. They can stay on top of medical terminology, record keeping, and being a team leader.
On successful completion of this course, students can up-skill themselves and continue further with their education. Graduates will be able to progress to the Certificate IV in Health Administration, and can take up the Diploma of Practice Management later.
The Certificate 3 in Health Administration is nationally accredited by Nationally Recognised Training in Australia, a joint initiative of the Australian and State and Territory governments.
Course learning outcomes:
Having completed the course, students will be able to gain:
• Knowledge of basic administrative skills.
• The skills and ability to work within a diverse organisation.
• Knowledge of work ethics and legal requirements.
• Responsibility to undertake work given under supervision.
• The ability to implement workplace health and safety procedures and processes.
Course Overview
Pathways and Careers
This course leads to the following study pathways, among others:
• Certificate IV in Health Administration
• Diploma of Practice Management
• Diploma of Nursing
• Advanced Diploma of Nursing
Students who have successfully completed this course can work as Health Administrative Workers, Admission Clerics, Ward Workers among other positions.
Employment prospects in this sector are very promising. 165,500 persons were employed as Receptionists in 2015. Job openings over the next 5 years are expected to be greater than 50,000.
Source: Department of Employment. For full details on Practice Managers visit Job Outlook
Employment Level and growth
• In the five years leading to November 2019, the number of job openings for Receptionists is expected to be greater than 50,000.
• Employment numbers for this occupation fell slightly in the past five years and in the last ten years. Looking forward, employment for Receptionists to November 2020 is expected to grow.
• This is a very large occupation (165,500 in November 2015) suggesting that opportunities should be available in most regions.
• It has been found that the most common level of educational attainment for Receptionists is Year 12 (27.5 per cent).
• At present, receptionists are mainly employed in: Health Care and Social Assistance; Accommodation and Food Services; and Professional, Scientific and Technical Services.
Information for this occupation (presented as charts and tables), includes employment level and growth.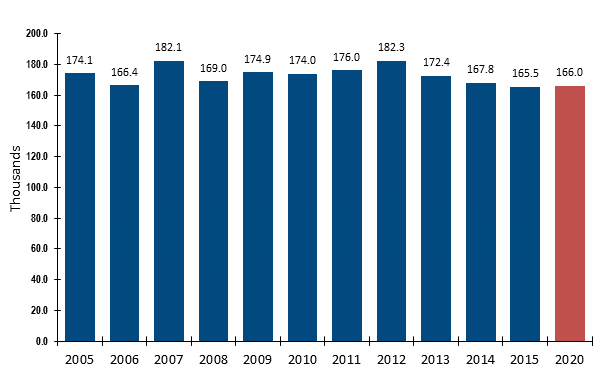 These data show past and projected (to 2020) employment levels (thousands). Source: ABS Labour Force Survey, Department of Employment trend data to November 2015 and Department of Employment projections to 2020.
DOWNLOAD COURSE BROCHURE
Enter your details below to receive a free course guide and a consultation with an Education Advisor.