Qualification Code : CHC50113
Qualification Name : CHC50113 Diploma of Early Childhood Education and Care
Duration : 104 Weeks
Volume of Learning : 2 years Amount of Training : 2043 hours
AQF Level : 5
Course Delivery : Face-to-Face
RTO ID : 21985
Campuses : Perth
CRICOS Code : 093191G
Fees : Click here for more details
IHNA Policies, Procedures & Forms
Do you love to work with children, and are you planning to become an early childhood educator? Do explore our CHC50113 - Diploma of Early Childhood Education and Care that offers you the option to work in the childcare education industry, in settings such as early learning centres, family day care centres and so on.
The CHC50113 - Diploma of Early Childhood Education and Care (ECEC) is designed to educate students to competently handle roles within an early childcare education setting. You will be responsible for educating and nurturing the creativity in children, taking care of babies and toddlers, developing their social and cultural competencies, and helping them to become confident, socially capable children.
The course will be delivered in both classroom and blended learning modes which include a combination of theory, simulation based training and assessment in a simulated children services lab environment. There will be 240 hours of Professional Experience at placement venues (PEP) that is mandatory.
On successful completion of this course, students can gain employment in the Early Childhood Education Industry in multiple settings that include Child Care Centres, After School programs, Pre-school programs, Family Day Care Centres, and Play Groups among other community settings.
Course learning outcomes:
Having completed the course, students will be able to:
• Gain knowledge and understanding of the Diploma of ECEC, and apply that knowledge in the early education sector.
• Demonstrate the ability to manage children, educate them, and contribute to their development and learning process.
• Understand the legal and ethical side of working in an early childhood education centre.
• Understand and ensure the health and safety of the children in the centre.
• Respond to emergency first aid situations at an education and care setting.
• Gain the ability to nurture, develop, and educate the children's ability to deal with the outside world and to become confident and socially capable.
• Gain the ability to deal with families and to provide them with appropriate counselling about their children.
• Manage and operate the early learning centre, and manage the team of educators.
• Plan programs that are in sync with the national quality framework.
Course Overview
Pathways and Careers
This course leads to the following study pathways, among others:
• Advanced Diploma of ECEC
• Bachelor Degree of Education (Early childhood)
• Graduate Diploma of Education
• Master of Education
Students who have successfully completed this course can work as a Childhood Education Manager or an Outside School Hours Coordinator within an early childhood sector.
Some other potential jobs the graduates can obtain employment in are:
• Early childhood educator.
• Family day care educator
• Before and after school hours' care coordinator
• Service director/ program manager/ educational leader
Job prospects in this sector are very promising. 149,600 people in Australia were employed as Child Carers in 2015. Job openings over the next 5 years are expected to be greater than 50,000.
Source: Department of Employment. For full details on Child Carers visit Job Outlook
Employment Level and Growth
• In the five years to November 2019, the number of job openings for Child Carers is expected to be greater than 50,000.
• Employment prospects for this occupation have risen very strongly in the past five years. Looking forward to November 2020, employment for Child Carers is expected to grow very rapidly.
• This is a very large occupation (149,600 in November 2015) suggesting that opportunities should be available in most regions.
• It has been found that the most common level of educational attainment for Child Carers is Certificate III/IV (33.6 per cent).
• At present, Child Carers are mainly employed in: Health Care and Social Assistance; Education and Training; and Other Services.

Information for this occupation (presented as charts and tables), includes employment level and growth.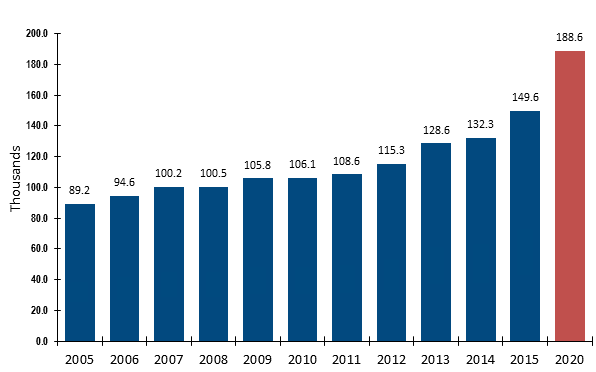 These data show past and projected (to 2020) employment levels (thousands). Source: ABS Labour Force Survey, Department of Employment trend data to November 2015 and Department of Employment projections to 2020.
DOWNLOAD COURSE BROCHURE
Enter your details below to receive a free course guide and a consultation with an Education Advisor.