Accreditation:
The CHC50113 - Diploma of Early Childhood Education and Care qualification is suited to the role of childhood educators who are responsible for designing and implementing curriculum in Early childhood education and care services. You will be required to implement an approved learning framework within the requirements of the Education and Care Services National Regulations and the National Quality Standards.
This course teaches you the skills and knowledge to provide appropriate education and care to children. You may choose to work under direct supervision or autonomously and may also be required to supervise others. Students who have successfully completed Certificate III in Early Childhood Education and Care will receive advance standing for this course.
Course Overview
Pathways and Careers
This course leads to the following study pathways, among others:
Advanced Diploma of ECEC
Bachelor Degree of Education (Early childhood)
Graduate Diploma of Education
Master of Education
Students who have successfully completed this course can work as a Childhood Education Manager or an Outside School Hours Coordinator within an early childhood sector.
Some other potential jobs the graduates can obtain employment in are:
Early childhood educator.
Family day care educator
Before and after school hours' care coordinator
Service director/ program manager/ educational leader
Job prospects in this sector are very promising. 149,600 people in Australia were employed as Child Carers in 2015. Job openings over the next 5 years are expected to be greater than 50,000.
Source: Department of Employment. For full details on Child Carers visit Job Outlook
Employment Level and Growth
In the five years to November 2019, the number of job openings for Child Carers is expected to be greater than 50,000.
Employment prospects for this occupation have risen very strongly in the past five years. Looking forward to November 2020, employment for Child Carers is expected to grow very rapidly.
This is a very large occupation (149,600 in November 2015) suggesting that opportunities should be available in most regions.
It has been found that the most common level of educational attainment for Child Carers is Certificate III/IV (33.6 per cent).
At present, Child Carers are mainly employed in: Health Care and Social Assistance; Education and Training; and Other Services.
Information for this occupation (presented as charts and tables), includes employment level and growth.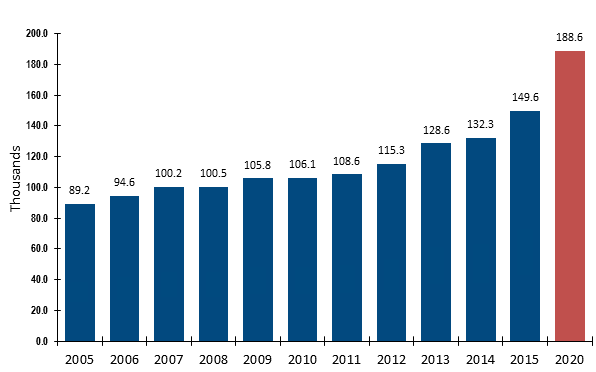 These data show past and projected (to 2020) employment levels (thousands). Source: ABS Labour Force Survey, Department of Employment trend data to November 2015 and Department of Employment projections to 2020.
Download Course Brochure and Course Handbook
Enter your details below to receive a free course guide and a consultation with an Education Advisor.