Massive Financial Year End Promotion 2019
Save Hundreds of $$$* on selected certificate courses
HURRY!! Limited seats available
Know more details
*Conditions Apply
The HLT37315 - Certificate III in Health Administration is the perfect way to start on a career in the Health administration sector. This course provides the specialised skills and knowledge essential to work in the administrative department in health-related organisations.
This qualification reflects the role of administrative workers in the health industry, who follow known routines and procedures, and are required to take responsibility for their own work under general supervision.
Course Overview
Pathways and Careers
This course leads to the following study pathways, among others:
Certificate IV in Ageing Support
Certificate IV in Disability
Certificate IV in Health Administration
Diploma of Practice Management
Diploma of Nursing
Advanced Diploma of Nursing
Students who have successfully completed this course can work as Health Administrative Workers, Admission Clerics, Ward Workers among other positions.
Employment prospects in this sector are very promising. 165,500 persons were employed as Receptionists in 2015. Job openings over the next 5 years are expected to be greater than 50,000.
Source: Department of Employment. For full details on Practice Managers visit Job Outlook
Employment Level and growth
In the five years leading to November 2019, the number of job openings for Receptionists is expected to be greater than 50,000.
Employment numbers for this occupation fell slightly in the past five years and in the last ten years. Looking forward, employment for Receptionists to November 2020 is expected to grow.
This is a very large occupation (165,500 in November 2015) suggesting that opportunities should be available in most regions.
It has been found that the most common level of educational attainment for Receptionists is Year 12 (27.5 per cent).
At present, receptionists are mainly employed in: Health Care and Social Assistance; Accommodation and Food Services; and Professional, Scientific and Technical Services.
Information for this occupation (presented as charts and tables), includes employment level and growth.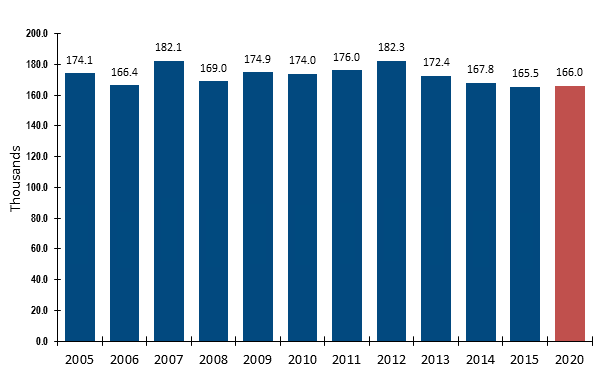 These data show past and projected (to 2020) employment levels (thousands). Source: ABS Labour Force Survey, Department of Employment trend data to November 2015 and Department of Employment projections to 2020.
Download Course Brochure and Course Handbook
Enter your details below to receive a free course guide and a consultation with an Education Advisor.